The Cub Scouting Program
Your first year of having a youth in the scouting program may be a bit confusing, especially if you have no previous scouting experience. We use words like pack, den, troop and chartered organization often, and these can be puzzling to new members. This can be especially true when trying to understand how they relate to each other and to your scout. With that in mind, what follows is a description of how different parts of the Cub Scout program fit together.
The Den
Each Cub Scout is a member of a den. Most dens consist of four to eight youth in the same grade level. Dens typically meet two or three times per month (during the school year) and are managed by a den leader, who is usually the parent of one of the scouts in that den. A den can also have an assistant den leader and/or a den chief (an older scout helper from a Troop) to assist with den meetings and activities.
During den meetings scouts participate in activities that help them earn rank advancements, awards and other forms of recognition. The exact times, dates, and locations for den meetings are typically left to the discretion of each den leader. Most of the dens in our pack meet for about one hour during the evening on the first and the third Tuesday of each month, typically at Fir Grove Elementary or the den leader's home. Check with your scout's den leader for more information.
The Pack
Every den is part of a pack. A pack usually consists of five or more dens and is led by the Cubmaster, who is supported by one or more Assistant Cubmasters and other adult leaders. Pack meetings are typically held once per month. This is a time for the scouts to share the things they have learned and accomplished during that month. Often pack meetings will include games, skits, songs, ceremonies and the presentation of badges and awards that the scouts earned during that month. This is an event where families can celebrate the achievements of their scout.
Our pack meetings are typically held on the fourth Tuesday of each month (during the school year) at the Fir Grove Elementary School Multi-Purpose Room.
The Pack Committee
Adult volunteers (parents, grandparents and other guardians of our Cub Scouts) who are registered with the BSA come together to form the Pack Committee, which usually meets once per month (during the school year) to plan all pack activities, outings, service projects, and events. All interested adults are welcome to join in our planning meetings.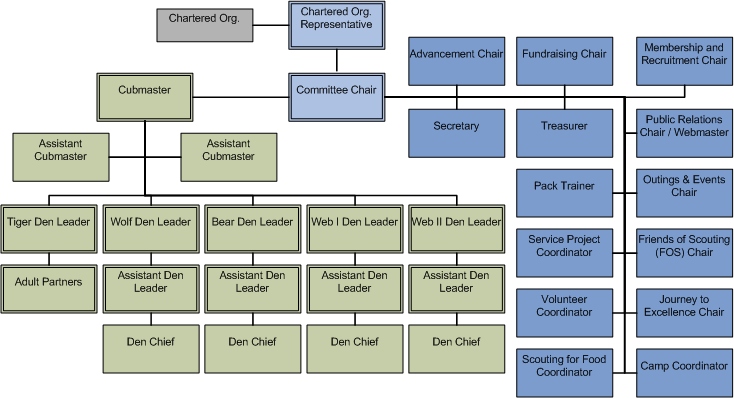 The Chartered Organization
The Boy Scouts of America makes scouting available to our nation's youth by chartering community organizations to organize and operate Cub Scout Packs, Boy Scout Troops, and other similar scouting units.
The Fir Grove Elementary School PTO is our chartered organization, and has been for over sixty years. Today the PTO charters both our Troop and Boy Scout Troop 685. Both scouting units strive to be helpful and productive members of our local community. We donate our time and energy (usually in the form of community service and conservation projects) to give back to the community and to say "thank you" to the PTO on a regular basis.
Scouts BSA Troop 685
Troop 685 is our "big brother" in the scouting program. They often invite our Cub Scouts (especially our Webelos) to join them in appropriate activities. We work to maintain a strong relationship with Troop 685, and it is not uncommon for our Webelos scouts to join Troop 685 as new Boy Scouts after earning their Arrow of Light award and "graduating" from the Cub Scout program.
The District
Our Pack is within the Sunset Trail District, which is comprised of all units (packs, troops and venture crews) that are chartered in the Beaverton School District (and a few additional small outlying areas).
The Council
Sunset Trail is one of seventeen geographic districts that comprise the Cascade Pacific Council (the CPC). Our council serves (as of 2017) over twenty-one thousand boys and girls ages 6-20 in Northwest Oregon and Southwest Washington. Additionally, over eleven thousand adult volunteers throughout the council make the scouting program possible.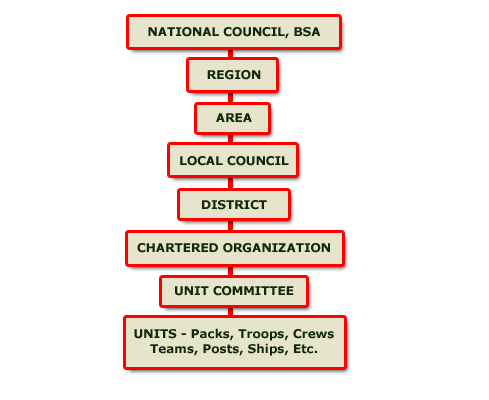 Next Section: Cub Scout Advancement