---
Cub Scouts will need a number of items.
A Cub Scout Uniform Shirt

Lion scouts can wear a Lion program T-shirt or the traditional blue uniform shirt
Tiger, Wolf and Bear scouts wear the traditional blue uniform shirt
Webelo's and Arrow of Light scouts have the option of wearing the blue or the tan uniform shirt short or long sleeve options are available in both blue and tan shirts


The appropriate set of patches for the scout uniform:

United States Flag *
Cascade Pacific Council shoulder patch
Pack Unit Numbers **
Den Number patch
World Crest patch
Sunset Trail District patch (sometimes called a "rounder" because it is round)


Neckerchief, Slide, and Handbook (for appropriate age / rank)

Cub Scout hat, pants, belt, and socks are available.
Uniforms and supplies can be purchased at two nearby locations:
Nor'West Scout Shop
2145 SW Naito Parkway
Portland, OR 97201
503.243.5022Hours:
Monday-Friday: 9:00 am – 7:00 pm
Saturday: 10:00 am – 4:00 pm


Closed Sunday

LaHaie's Jackets
277 East Main Street
Hillsboro, OR 97123
503.648.2341Hours:
Tuesday-Friday: 10:00 am – 6:00 pm
Saturday: 10:00 am – 4:00 pm
Closed Sunday and Monday
Alternatives include scouting supplies from scoutshop.org, clothes closet, and eBay (or similar sites) can also be a good place to find scouting supplies.
If you cannot afford the uniform or other items, please talk to our Cubmaster, Committee Chair or pack Treasurer; we do have some scholarships available. Our pack also has a Uniform Closet.
Please come to us with your concerns and we will do what we can to help.
* The American Flag patch is typically included with the uniform shirt.
** The Pack Numerals (and veteran unit patch) is included with your initial registration.
---
Uniform Patch Placement: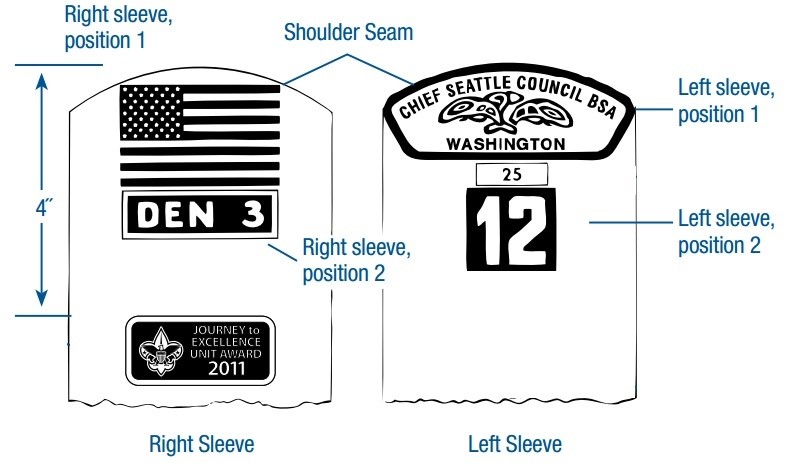 Right Sleeve Patches

:

United States Flag
Den Number
Webelos Colors (optional, not shown)
Journey to Excellence (JTE) Award

Left Sleeve Patches

:

Council shoulder Emblem
Pack Numerals
Uniform Code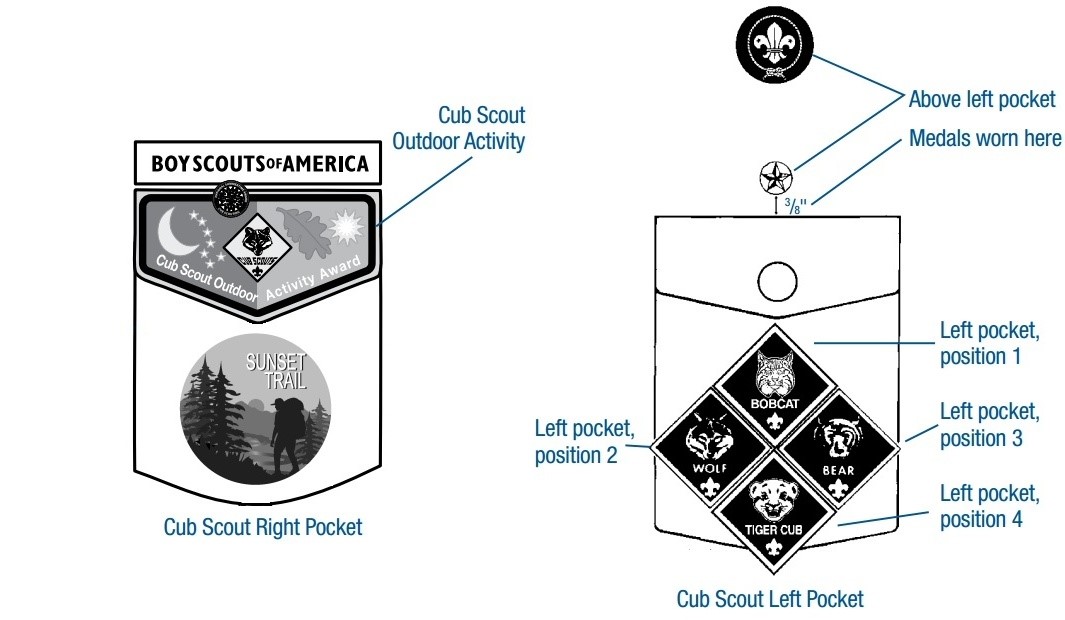 Right Pocket Patches

:

Cub Scout Outdoor Activity Award
District Patch (a.k.a. the "rounder")
(centered on the pocket)

Left Pocket Patches

:

World Crest
(centered above the pocket)
Rank Patches
Please Note:
The patches that are listed in bold (above) should be the only patches on the uniform of a new scout.
While official scout pants are not required in our Pack, sweatpants, athletic pants, or athletic shorts are not appropriate uniform wear. We encourage our scouts to wear jeans or something similar with their uniform shirt.