---
Why Give to Camp4All?
---
To Give Every Scout a World Class Summer Camp Experience
100% of proceeds from our Camp4All campaign go to getting Scouts to camp and giving them an unparalleled experience at our world-class camp properties.
---
Why is Summer Camp so Important?
Recent research in the Journal of Youth Development shows that attending summer camp helps youth develop skills essential to success in academics and in the workplace.
What researchers found by studying camp attendees was that the experiences intrinsic to summer camps – trying new activities, living with your peers, being required to be more independent – all inspired personal growth.
---
Impact of Camp4All: Cub Scout Pack 20
Parents, leaders and Scouts from NE Portland's Pack 20 enjoyed camp for the first time ever, courtesy of your gift to Camp4All.
---
Council Patches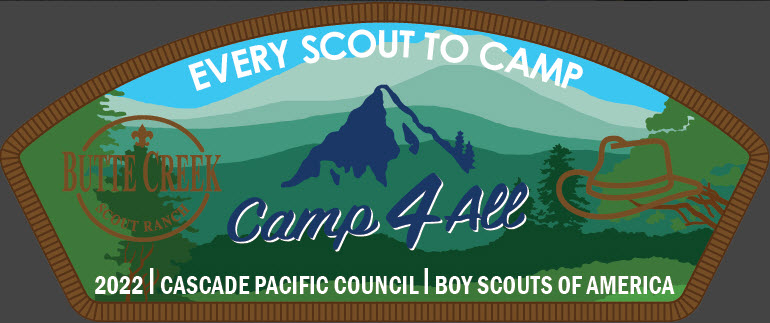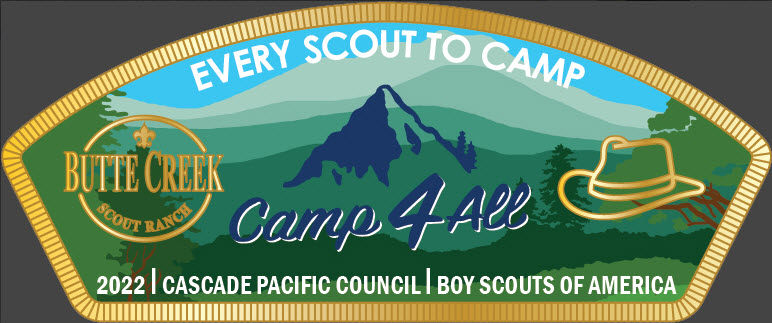 To thank you for your gift, you'll receive our new Council Shoulder Patches.
$120 or $10/month: receive a brown-bordered patch
$300 or $25/month: receive a red-bordered patch
$600 or $50/month: receive a gold-bordered patch
Donate $1200 or $100 a month starting in January, you get all three patches in a set!
2020 FUNDS DESIGNATION:
48% Camp Projects | 36% Adventure Club | 10% Horse Program | 10% Other
150 New Campsites | 3,920 Adventure Kits | 450 Families Camped
WAYS TO GIVE:
---
Donation & Giving Questions?
Michael Egan – (503) 225-5779
Chief Development Officer
Anna LaPointe – (503) 225-5721
Director of Development